"I remember going to a remarkable recital, one which I wish I had the ability to give: it was one of Nigel North's Bach recitals, and I was bowled over by how masterful and how musical it was. A real musical experience, something you don't always get from guitar and lute players and which, in general, is pretty rare."
- Julian Bream (London, September 2002) in a talk given to the Lute Society regarding a Bach recital (1996) given at Wigmore Hall (London).
British lutenist Nigel North has been sharing music with audiences for nearly 30 years. His quiet and gentle personality goes, literally, "hand in hand" with his choice of instrument; the lute is one of the most gentle, subtle yet technically demanding of "ancient" instruments. Through this medium, as soloist, accompanist and ensemble musician, Nigel has inspired appreciation from concert public and recording listeners with comments such as :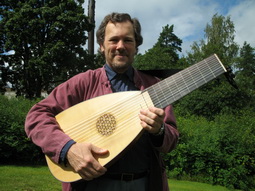 Click on Image to Enlarge
"North's playing has a freedom and expression rivaling the best jazz musicians"

"An amalgam of scholarship, respect, love and high instrumental ability."

"Lute plucked to perfection. . . perhaps he is the greatest performer of this instrument of all time"

"stunning - rich, warm, resonant and utterly musical"
Nigel North has also always adored teaching. Following many years of committed teaching in Europe (in London, Berlin and Den Haag) Nigel has since 1999 been Professor of Lute in the "Early Music Institute" at Indiana University, Bloomington, USA from where he continues his varied life as performer and teacher.